Placement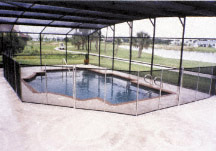 We recommend that all access to the pool be blocked off; meaning that no door, window or pet door could ever be used to go around the Roll-A-Way Protective Pool Fence. In a screened enclosed pool, the fence can be installed from a vertical beam on one side of the screen to another vertical beam with doors, windows and pet doors located outside the fence (house side). On an outdoor or unenclosed pool, the Roll-A-Way Protective Pool Fence can be attached (in some cases) to an existing wall or property fence, or in most cases circling the entire pool is the best recommendation. We leave anywhere from 18" to 36" from the water's edge to allow for walking and cleaning space. The Roll-A-Way Protective Pool Fence can be shaped to follow pool and patio lines, curves, angles; different levels and straight lines are possible.
4 foot high removable sections in 6, 9, 12 and 15 foot lengths
Tightly woven industrial fiber mesh with UV and mildew stabilizers
Mesh colors: black, hunter green, brown, beige and white
Binding totally encasing all four sides of the material with single strand line embedded for additional rigidity
Reinforced/reengineered aluminum poles offer superior structural integrity, nonconductivity and are rust proof. Fence poles are spaced 36" apart.
Pole colors: silver, black and white
Diamond tipped cored drilled holes placed in the pool deck every 36"
High-impact plastic deck sleeves and floor caps are nonconductive and noncorrosive
Proven and secure hook and eye manual closing/locking system
5-Year written and detailed warranty on all materials, parts, labor and installation
| | | |
| --- | --- | --- |
| Central Florida | North Florida | West Florida |
| (407) 351-3888 | (904) 743-9846 | (813) 224-9846 |
Open and Working 7 Days
Copyright © 1984-2017
Managed by Roll-A-Way Protective Pool Fence of Central Florida, Inc.